Learn to Train Teachers and related professionals to improve their understanding and skill at working with students who have ADHD and Executive Function challenges.
I have provided ADHD/Executive function professional development nationwide in schools and conferences for over a decade, and the impact has been tremendous. Participants become more confident and adept at meeting students' social and emotional needs and helping them become more productive, self-reliant, and self-assured.
Through this Academy, I am now training others to offer my training program. You will be prepared to teach and support teachers and other professionals who work directly with children in grades K-12. You can present Professional Development in school districts, at professional conferences (Learning disabilities conferences, Speech/Language conferences, Occupational Therapy conferences, etc.), and in gatherings you create/host.
The ADHD Professional Trainer Academy training is open to:
Mental Health Professionals, Professional Coaches, Educators, Nurse Practitioners, School Psychologists, Learning Specialists, Occupational Therapists, and Speech-Language Pathologists.
You may earn Continuing Education credits from Adams State University, AOTA, NBCC, and ASHA.
Provide professional development for teachers and support professionals. Teach them to make systemic changes in classrooms and related therapeutic settings. Upon completing the program, you will be a licensed provider of PTS Coaching, LLC's ADHD Professional Training program. Your renewable license will give you access to my ADHD & Executive Function: Managing the Impact on Learning, Motivation, and Behavior© professional development program and materials to conduct your training sessions. You will also learn to facilitate the presentations Ready, Set… Now, How Do I Get Started?© and Effective Collaborating: Parent, Student, Teacher© for community education and your marketing.
Earning CEUs & Professional Development Credits
If you are interested in receiving Continuing Education for your certification or license and do not see your approval organization here, please contact Cindy Goldrich: [email protected]
Frequently Asked Questions

Course Expectations and Requirements

There are no prerequisites for this course.
This is a Nine session course. Three sessions (Classes 1, 5, and 9) are for ADHD Professional Trainer Academy© participants only, and six sessions include participants who are taking the ADHD Continuing Education course.
Class is offered over the Zoom platform. You are expected, though optional, to have your video camera on to maximize involvement.
Each class is recorded for later review.
Be prepared to spend one hour outside class reviewing the materials and required reading and composing homework responses.
Completing this course requires a minimum grade of 80% on the post-course exam and completing the course evaluation form.
Required Texts (books are not included in the course fee):


• Goldrich, C., and Wolf, C. ADHD, Executive Function & Behavioral Challenges in the Classroom: Managing the Impact on Learning, Motivation, and Stress, PESI Publishing Media, 2019.

• Greene, R. W. (2008). Lost at school: Why Our Kids with Behavioral Challenges are Falling Through the Cracks and How We Can Help Them, New York: Scribner.

• Cohen, R. Metacognitive Student: How to Teach Academic, Social, and Emotional Intelligence in Every Content Area. Solution Tree, 2021.
Course Fee
$1800 or 2 Payments of $972 (Price includes the first year's license fee of $425)
Register
ADHD Professional Trainer Academy – 9 Session Course Includes:
3 Professional Trainer Only Classes June 1, 15, July 6, 2023
1 pm – 3 pm Mountain Time (3 pm – 5 pm Eastern Time)
PLUS
6 Joint Classes with Professional Trainer & CE Course Participants, June 6, 8, 13, 22, 27, 29, 2023
1 pm – 3:30 pm Mountain Time (3 pm – 5:30 pm Eastern Time)
Classes are Live-Interactive webinars using the Zoom platform
For those interested in receiving CEUs, the course you will need to satisfy the homework requirements for the CEU or Graduate PD class. Please see the FAQs for details.
Testimonials from Cindy's Professional Training
"I loved your professional development class!! I immediately started re-reading your handouts and feel very inspired. I can't wait to implement many strategies, especially showing how the neurons connect and what is happening inside their brains. I also love the two homework handouts."
---
Thank You!
"I enjoyed your presentation. You were energetic and informative and made the learning accessible by using many real-life examples. I walked away with greater insight, strategies, and tools I will use in my classroom. Thank you."
---
Lisa – Elementary Teacher
"Your presentation provided easy-to-implement practical suggestions for empowering those who work with children with ADHD, and other related challenges, as well as recognizing and understanding their own as well as the student's strengths. We admire how you responded so well to the questions and gave great advice, ideas and comfort with your responses."
---
Ellen Maiseloff, MA Opening the Doors Partnership Program Jewish Federation of Metropolitan Detroit
ADHD, Executive Function, & Behavioral Challenges in the Classroom
Practical insights, tools, and activities to support the social and emotional education of children who learn differently.
Check out Cindy's parenting book here.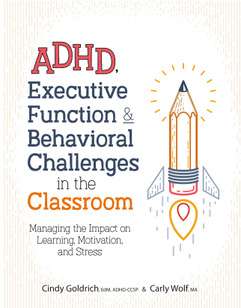 Cindy Goldrich, Ed.M., ADHD-CCSP, is a mental health professional, certified ADHD Coach, and training professional. Founder of PTS Coaching, LLC, Cindy is a leading authority on parenting and supporting children with ADHD, Executive Function, and Learning Disabilities.
Author of 8 Keys to Parenting Children with ADHD, a concise, easy-to-read "crash course" for parents of children with ADHD based on her Calm Connected coaching model. Co-Author of ADHD, Executive Function, & Behavioral Challenges in the Classroom, an invaluable resource for all classroom teachers full of real, practical, and powerful insights, tools, and activities.
Cindy received her Master's in Education in Counseling Psychology from Columbia University, Teachers College, and ADHD coach certification from the Institute for the Advancement of ADHD Coaching. She has trained with Dr. Edward Hallowell and Dr. Ross Greene. She is a regular contributor to ADDitudemag.com, CHADD's Attention magazine, and a guest on several industry-leading podcasts.