Attention Deficit Hyperactivity Disorder (ADHD) and Executive Function Challenges impact almost ten percent of school-age children.
These students often require more time and attention than their peers, creating additional stress for teachers and classmates.
Professionals who work with students with ADHD/Executive Function Challenges need practical tools, strategies, and insights to help them and their parents manage the social and emotional impact of ADHD, Executive Function challenges, and stress on learning, motivation, behavior, and the family system. These students often require direct support in the classroom even if they receive direct services such as resource room or skills training.
I have provided full-day and ½-day in-service professional development for school districts nationwide for over a decade. My programs offer resources, education, tools, and strategies to help struggling students and families. The impact on school culture and teacher performance has been profound.
If you would like your staff to be trained by Cindy via live-interactive webinars, here are two options:
ADHD Professional Trainer Academy
ADHD Continuing Education Course
ADHD, Executive Function & Behavioral Challenges
in the Classroom
These training modules offer Teachers and related professionals an understanding of the social and emotional impact of ADHD and executive function challenges on learning, motivation, behavior, and the family system. The curriculum uses the latest research and best practices regarding remediating and supporting students with ADHD and Executive Function weaknesses. Participants will learn specific tools and strategies to help students deal with challenging behaviors and improve their overall motivation, focus, organization, and productivity.
Each module builds upon the knowledge and skills acquired in the previous module.
Testimonials from Cindy's Professional Training
"I loved your professional development class!! I immediately started re-reading your handouts and feel very inspired. I can't wait to implement many strategies, especially showing how the neurons connect and what is happening inside their brains. I also love the two homework handouts."
---
Thank You!
"I enjoyed your presentation. You were energetic and informative and made the learning accessible by using many real-life examples. I walked away with greater insight, strategies, and tools I will use in my classroom. Thank you."
---
Lisa – Elementary Teacher
"Your presentation provided easy-to-implement practical suggestions for empowering those who work with children with ADHD, and other related challenges, as well as recognizing and understanding their own as well as the student's strengths. We admire how you responded so well to the questions and gave great advice, ideas and comfort with your responses."
---
Ellen Maiseloff, MA Opening the Doors Partnership Program Jewish Federation of Metropolitan Detroit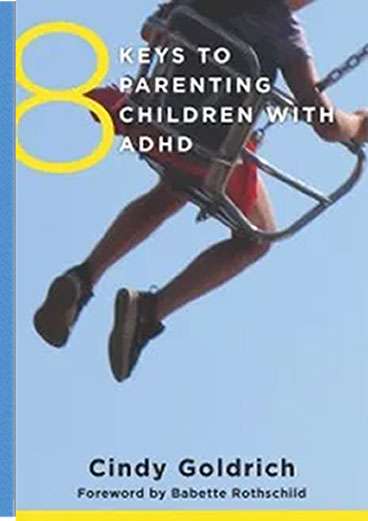 8 Keys to Parenting Children with ADHD
This ADHD book is rich with optimism, tips, tools, and action plans to help your children grow into the best version of themselves.
ADHD, Executive Function, & Behavioral Challenges in the Classroom
Practical insights, tools, and activities to support the social and emotional education of children who learn differently.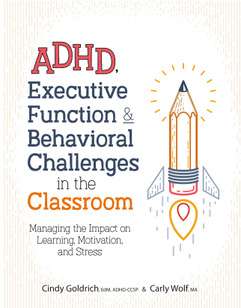 Cindy Goldrich, Ed.M., ADHD-CCSP, is a mental health professional, certified ADHD Coach, and training professional. Founder of PTS Coaching, LLC, Cindy is a leading authority on parenting and supporting children with ADHD, Executive Function, and Learning Disabilities.
Author of 8 Keys to Parenting Children with ADHD, a concise, easy-to-read "crash course" for parents of children with ADHD based on her Calm Connected coaching model. Co-Author of ADHD, Executive Function, & Behavioral Challenges in the Classroom, an invaluable resource for all classroom teachers full of real, practical, and powerful insights, tools, and activities.
Cindy received her Master's in Education in Counseling Psychology from Columbia University, Teachers College, and ADHD coach certification from the Institute for the Advancement of ADHD Coaching. She has trained with Dr. Edward Hallowell and Dr. Ross Greene. She is a regular contributor to ADDitudemag.com, CHADD's Attention magazine, and a guest on several industry-leading podcasts.