Attention Deficit Hyperactivity Disorder (ADHD) and Executive Function Challenges impact almost ten percent of school-age children.
These students often require more time and attention than their peers, creating additional stress for teachers and classmates.
Professionals who work with students with ADHD/Executive Function Challenges need practical tools, strategies, and insights to help them and their parents manage the social and emotional impact of ADHD, Executive Function challenges, and stress on learning, motivation, behavior, and the family system.
For over a decade, I have provided full-day and ½-day in-service professional development for school districts nationwide. My programs offer resources, education, tools, and strategies to help struggling students and families. The impact on school culture and teacher performance has been profound.
Below are three Full-Day workshops that we offer.
If you prefer to have your staff trained by Cindy via live-interactive webinars, here are two options:
ADHD Professional Development Trainer Academy.   Have a school member prepare to provide on-site training to your staff now and in the future.
ADHD Continuing Education Course Have your teachers, SLPs, OTs, and counselors learn outside of school hours.
ADHD, Executive Function & Behavioral Challenges
in the Classroom
This workshop gives teachers, guidance counselors, and school psychologists an understanding of the social and emotional impact that ADHD and Executive Function challenges have on learning, motivation, behavior, and the family system. Upon completing this program, participants will:
Have a functional and actionable understanding of Executive Function skills and what performance can be expected at different learning levels.
Learn valuable methods to manage problems with attention, organization, stress, homework completion, and test performance based on the latest brain research and evidence-based best practices.
Discover subtle changes in teaching methods and classroom structure to improve time management, working memory, motivation, and emotional regulation that will benefit all children, not only those with ADHD.
This workshop provides practical tips, tools, and strategies to help students gain self-awareness, self-direction, and greater accountability that can be incorporated into everyday teaching and across the curriculum.  Receive valuable handouts and resources for teachers, parents, and students to manage homework, home/school communication, study skills, behavior, and more.
Collaborative Problem-Solving Approach to Behavior & Compliance
Are managing challenging behaviors taking away too much valuable instruction time? You already know how to differentiate your instruction to help support diverse learning needs. This workshop provides strategies to handle disruptions and emotional dysregulation. Using a Collaborative Problem-Solving model, participants will apply a behavioral intervention process:
Learn techniques to strengthen emotional/ self-regulation skills to help students improve problem-solving and advocacy skills.
Learn how to identify the thinking skill deficits that impact student behavior and apply a behavior intervention process to build skills, relationships, and internal drive.
Develop actionable strategies for partnering with students to set, plan, and achieve goals leading to successful classroom experiences.
Paraprofessional Training for Supporting Students with ADHD/Executive Function Challenges in the Classroom
Paraprofessionals play an integral role in facilitating student achievement and supporting the work of the classroom teacher. Children with ADHD and learning challenges, while often bright, enthusiastic, and creative, can create a tremendous challenge in the classroom due to their behaviors and unique needs for support.
This workshop will address the specific challenges that paraprofessionals face as they work to support the needs of the individual student, the learning environment, and the classroom teacher.
Understand how ADHD and Executive Function Challenges impact learning, motivation, and behavior.
Develop strategies to encourage students to initiate and stay focused on the task.
Learn how to manage challenging behaviors using a collaborative approach.
This workshop contains practical tips, tools, and strategies to help paraprofessionals work more effectively with students each day.
Presentations for Parents
Top Ten Strategies for Parenting Kids with ADHD and Executive Function Challenges
Living with ADHD is not easy. Not for parents, not for siblings, and most of all, not for the child with ADHD. We have learned so much in the past ten years to help ease the path for these children both in school and at home. This presentation from Cindy Goldrich, certified ADHD coach, covers the essential strategies parents must implement to help their children survive and thrive. You will learn about the best supports for your child, the facts about ADHD beyond the diagnosis, and the basics about what Executive Function is and how it impacts learning, motivation, and behavior.  Let's discuss how to best prepare them and yourselves for the journey ahead!
Skills for Success – What Parents need to Know about Developing a Growth Mindset
Research has shown us that how we perceive our learning ability dramatically impacts our confidence, motivation, and perseverance. This presentation explores the basics of Executive Function and lessons of Growth Mindset that all parents and educators need to know to improve students' motivation to learn and willingness to face learning challenges. We will explore how to help children best see themselves as learners and how to best support them in developing perseverance in the face of difficulty.
Ready, Set, Now How Do I Get Started?
Getting started – it's often the hardest part for some kids, especially when they are challenged with ADHD /Executive Function Issues. Through understanding the process involved with task initiation and addressing some potential obstacles, this workshop will provide tools for helping students begin their work and achieve greater success.
Click here to learn more about In-School Parent Presentations
Testimonials from Cindy's Professional Training
"I loved your professional development class!! I immediately started re-reading your handouts and feel very inspired. I can't wait to implement many strategies, especially showing how the neurons connect and what is happening inside their brains. I also love the two homework handouts."
---
Thank You!
"I enjoyed your presentation. You were energetic and informative and made the learning accessible by using many real-life examples. I walked away with greater insight, strategies, and tools I will use in my classroom. Thank you."
---
Lisa – Elementary Teacher
"Your presentation provided easy-to-implement practical suggestions for empowering those who work with children with ADHD, and other related challenges, as well as recognizing and understanding their own as well as the student's strengths. We admire how you responded so well to the questions and gave great advice, ideas and comfort with your responses."
---
Ellen Maiseloff, MA Opening the Doors Partnership Program Jewish Federation of Metropolitan Detroit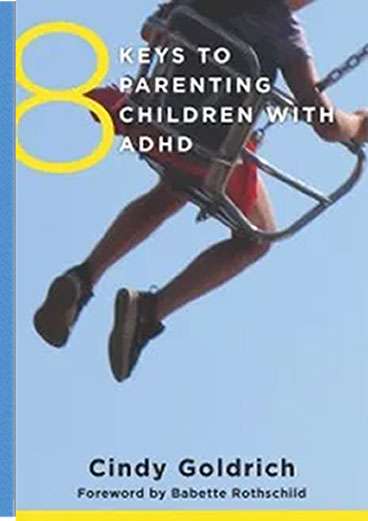 8 Keys to Parenting Children with ADHD
This ADHD book is rich with optimism, tips, tools, and action plans to help your children grow into the best version of themselves.
ADHD, Executive Function, & Behavioral Challenges in the Classroom
Practical insights, tools, and activities to support the social and emotional education of children who learn differently.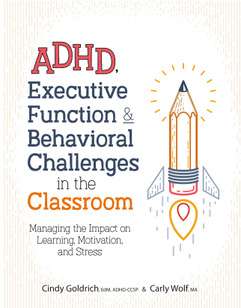 Cindy Goldrich, Ed.M., ADHD-CCSP, is a mental health professional, certified ADHD Coach, and training professional. Founder of PTS Coaching, LLC, Cindy is a leading authority on parenting and supporting children with ADHD, Executive Function, and Learning Disabilities.
Author of 8 Keys to Parenting Children with ADHD, a concise, easy-to-read "crash course" for parents of children with ADHD based on her Calm Connected coaching model. Co-Author of ADHD, Executive Function, & Behavioral Challenges in the Classroom, an invaluable resource for all classroom teachers full of real, practical, and powerful insights, tools, and activities.
Cindy received her Master's in Education in Counseling Psychology from Columbia University, Teachers College, and ADHD coach certification from the Institute for the Advancement of ADHD Coaching. She has trained with Dr. Edward Hallowell and Dr. Ross Greene. She is a regular contributor to ADDitudemag.com, CHADD's Attention magazine, and a guest on several industry-leading podcasts.