Here are some terrific tools to support you on your journey!
For Parents
April 4
ADHD/EXECUTIVE FUNCTION CHALLENGES: The Social & Emotional Impact on Learning, Motivation, Behavior, & the Family System©
Learn More
What is Calm© & Connected and APCA©?
Testimonials From Parents And Professionals
Thank you again for such educational and well-organized instruction. At this time I actually don't have any immediate follow-up questions. However, if and when I choose to begin parent coaching (outside of working with parents of students) I know I will be appreciative of having you and your wealth of experience as a resource. Thank you for everything, 
---
Robin Held, Montessori elementary school teacher, ADHD & Executive Function Parent Coach
Cindy's coaching programs are fantastic. She teaches you in a way in which you feel encouraged and empowered to try new methods and approaches to supporting your child(ren) with ADHD.
---
Chontel
I have just completed your ADHD Parent Coach training, and I wanted to say I have never been more motivated to help a community of parents/educators who are lost and not educated enough like myself (before) to know the difficulties of raising and teaching students with ADHD. You opened my eyes to so much!
---
Brittney W. (Educator and ADHD Parent Coach Academy Graduate)
The 1st meeting I had with Cindy I just vented and she listened. She was compassionate and knowledgeable and helped me realize I could help my son. After Cindy visited my son's school and spoke with his teacher I knew she was an awesome asset to my son's education. The strategies she suggested to his teacher worked within a week and he is on a path to success.

---
Emily L.
It was so wonderful to speak with you a few weeks ago – thank you so much for your time and expert insights. I have told tons of people about your book (8 Keys to Parenting Children with ADHD), which my husband, parents, and I are all reading! As a parenting writer (and as a parent), I've read so many books on subjects like this and I have to say, yours is exceptionally helpful. What I admire most about it, is that it keeps the big picture always in mind, so you don't get too bogged down in the details (but at the same time, it is full of concrete specific strategies). I've learned so much from it, and I'm not a newcomer to this disorder, so thank you! I'll continue to recommend it to parents, and I hope that featuring it in my book, will give the title that much more exposure. 
---
Nicole C. Kear, Author
I knew I needed better communication skills to be able to cope with the new phase of our relationship. …I think it was one the smartest thing I ever did in my life. I feel it is going to bring me closer to my son and understand what he was trying to tell me, for a very simple reason, I now know how to communicate with a calm and collaborative problem-solving attitude instead of being judgmental, short-tempered parent. I love my son dearly. If this will make me help him and not enable him, I will do it again and again and again. For me, that was the light at the end of the tunnel. Thank you Cindy. 
---
Amal A. (Parent and ADHD Parent Coach Academy Graduate)
Thank you for an incredibly useful training session. It was SO helpful to be able to do this via the web. I would not have been able to do it otherwise. I got a lot out of the course and I plan to go deeply into your materials in the months to come to keep teaching and reminding myself of everything you presented.
---
Kim N.
You've developed a really brilliant program here. I wish I had it when my son was first diagnosed 10 years ago!
---
Gwynn A. (Mother and ADHD Parent Coach Academy Graduate)
I attended your webinar, "Managing Homework: Parents Edition" this past week. It was one of the most informative webinars I have attended regarding kids with ADD. We have been struggling with my son, who is now a sophomore, for years with his homework and completing assignments on time. This gave me so much valuable information that I am going to utilize. In addition to all of the valuable information, the whole webinar was well put together, it flowed nicely, and was easy to follow along and understand. I am a former trainer myself so I understand how much time goes into a quality presentation like this. You also were very easy to understand and you didn't speak too fast. It moved at a nice pace.
Thank you for your time and expertise.
---
Kim P.
Cindy has made the very difficult task of parenting a child with ADHD so much more manageable for me.  The mantras she shares have been very helpful in enabling me to deal with the anger and "why me" feelings that often accompany having a child with ADHD.  She has truly helped me "Parent the child I have" (to use a quote that Cindy often does).  I feel better knowing Cindy is there when I need her.
---
Joan R.
What a great curriculum. Parents had positive feedback with their kids already!! I really like how it flowed. So glad I can offer support and education to parents. Thank you for putting this together.
---
Roberta H. (ADHD Parent Coach Academy Graduate)
"I loved your professional development class!! I immediately started re-reading your handouts and feel very inspired. I can't wait to implement many strategies, especially showing how the neurons connect and what is happening inside their brains. I also love the two homework handouts."
---
Thank You!
I have wanted to reach out to you for some time to say thank you for your Calm and Connected program for parents. I remember sitting there and listening to the different families tell their stories and while some things were familiar, other information was totally foreign to me.  I remember saying to myself "Thank God, we're not going through that."  Well, sure enough, many times since I have now corrected and said "thank God I took the course and I understand because of those people I met."  It was excellent preparation for what was to come on this ever-evolving journey.
The other point I wanted to acknowledge in regard to the program is that the course brought things to my attention and I have been diagnosed with ADHD.  It was a bit of a process, but it was confirmed this winter.  I wouldn't have realized had it not been through that workshop.  
So, I just wanted you to know how tremendously helpful your program has been and it truly was a godsend as I literally stumbled upon it. 
---
Jennifer N.
I took the ADHD Parent Coach Academy from Singapore and I have found the information very helpful and up to date. Cindy has been really sincere and supportive from the moment I contacted her. I have started to do her webinars in both Japanese and English and my participants have given me feedback on how the webinars gave them a new light on their situations and so informative. The administration side is very smooth as well and is amazingly on top of things! I definitely recommend PTS Coaching to anyone looking to find a coach and to train to become a coach.
---
Ryoko Sado, ADHD/EF Coach, Counselor, Educational Coach
I loved the content and delivery. I felt like I was talking with a friend. Cindy, you are very relatable and the connection you have with the parents is very special. There is Nothing false about you. We can tell you feel passionate about your work and passionate about helping others. I am so grateful for you and this workshop!

---
Allison S.
I have learned that when I don't react or respond to every emotional outburst, fewer and less severe problematic situations (related to my child's unwillingness, particularly for chores, homework, mealtimes and sibling interactions) occurred.
---
Ellen P.
"I enjoyed your presentation. You were energetic and informative and made the learning accessible by using many real-life examples. I walked away with greater insight, strategies, and tools I will use in my classroom. Thank you."
---
Lisa – Elementary Teacher
I have read your book and have been following you for a few years and on your email list. and I've learned so much from you.  I especially admire how you are a big supporter of moms taking the coaching role in parenting their children with ADHD and special needs.   You are a role model for me and so many others.     I want you to know that who you are and what you do really make a major impact in the world.
---
Andrea M
I now really know how to distinguish if my child is being willfully defiant or manipulative or if he is just really struggling to do what he should. This allows me to respond more effectively and help really change the outcomes.
---
Elisa R.
Cindy's Calm and Connected parenting workshop is incredible. It helped improve my relationship with my son with ADHD and our overall family dynamics. I go back to the materials often!
---
Jacqueline L.
Cindy Goldrich is a phenomenal instructor and made it simple to stay engaged. As a result, I earned an APCA license to teach Calm and Connected: Parenting Children and Teens with Executive.
---
Robyn
It's a pleasure to recommend Cindy Goldrich to present at your school or organization. She led a ½ day presentation at Boulder Country Day School where she helped us discover the unique qualities of both students and adults with attention deficit and executive function issues. Cindy was a dynamic presenter, well-informed, and eager to engage with her audience. She reviewed key characteristics of ADHD and executive functioning deficits, all the while putting to rest myths and inaccuracies that seem to inundate the public discourse. Her practical strategies were well received by our faculty and staff, and we were immediately able to put her training to good use. She'd be an outstanding resource for schools and/or organizations seeking to explore or to learn more about these important issues.
---
John H. Suitor III, Head of School, Boulder Country Day School
I am a clinical psychologist and I have worked with many psychologists, social workers and therapists. I took Cindy's 7-week course on parenting children with ADHD and was very impressed. Cindy covers a broad range of material and offers many practical techniques and tools for parents dealing with challenging children. But most importantly, Cindy has a gift for making parents feel understood. She helps parents look at their weaknesses without making them feel badly about their parenting. She provides a great sense of hope for parents who are feeling despairing and guilty. I so valued her coaching that my daughter and I now work with her privately on an ongoing basis.  Working with Cindy has been invaluable to us and our relationship.
I highly recommend Cindy's class and her coaching to parents and professionals working with people with ADHD.
---
Eve L.
If it hadn't been for your course and your outreach to parents I wouldn't have been able to advocate for my son. Now he can receive the support he needs to reach his potential. Thank YOU!
---
Martha S.
Cindy helped me realize the importance of working through my own unexpressed emotions. Cindy helped me see this and gave me valuable tools to help the healing process. I am so very grateful for her time and guidance and happy to report that both my son and myself are much better because of it.
---
Tracy P.
I attended your conference at WSBOCES in January…loved it…and have used many of your strategies (and ways of thinking) in my classroom.
---
Pamela, 1st Grade Teacher
You've developed a really brilliant program here. I wish I had it when my son was first diagnosed 10 years ago!
---
Gwynn Anidjar, Life Coach,  ADHD & Executive Function Parent Coach
My husband and I want to express our most sincere thank you for allowing us to participate in your webinar!  As was expected, it was TERRIFIC! 
---
Kristen W.
This training course and Calm and Connected material is so fantastic; it's meaty with descriptions of most importantly what it's like for kids with ADHD, with concepts like disability thinking on the parent's end to help defray emotional reaction to child's behaviors, solid and sensible communication techniques that can work in ANY relationship. I'm sure you've heard over and over from coaching trainees that they wished they had Calm and Connected for their own family issues. I know that's how I feel. And though my son is in a good place, and feeling fulfilled yet still learning, I have really kept this curriculum in mind when the much less occasional friction rears up. So thank you! Your delivery is therapeutic, positive, and easy to maintain full attention for 2 hours at a clip. Honest, and clear, and so willing to clear up any confusion in a calm manner.
---
Heidi P. (Mother and ADHD Parent Coach Academy Graduate)
Cindy, this article perfectly describes my son. If it weren't for your Calm and Connected© class I would not have had the tools to recognize the symptoms. I'm happy to report he is now in 8th grade, has a 504, and is feeling much better about his achievements. 
---
Martha Y.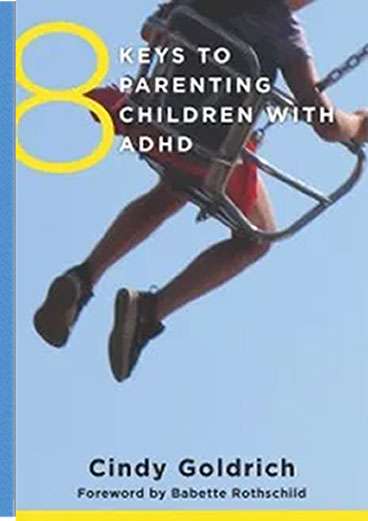 8 Keys to Parenting Children with ADHD
This ADHD book is rich with optimism, tips, tools, and action plans to help your children grow into the best version of themselves.
ADHD, Executive Function, & Behavioral Challenges in the Classroom
Practical insights, tools, and activities to support the social and emotional education of children who learn differently.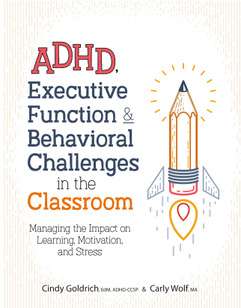 Appearances and Publications